No Sleep Till Brooklyn
October 26, 2019 @ 6:00 pm

-

9:00 pm

$55 – $60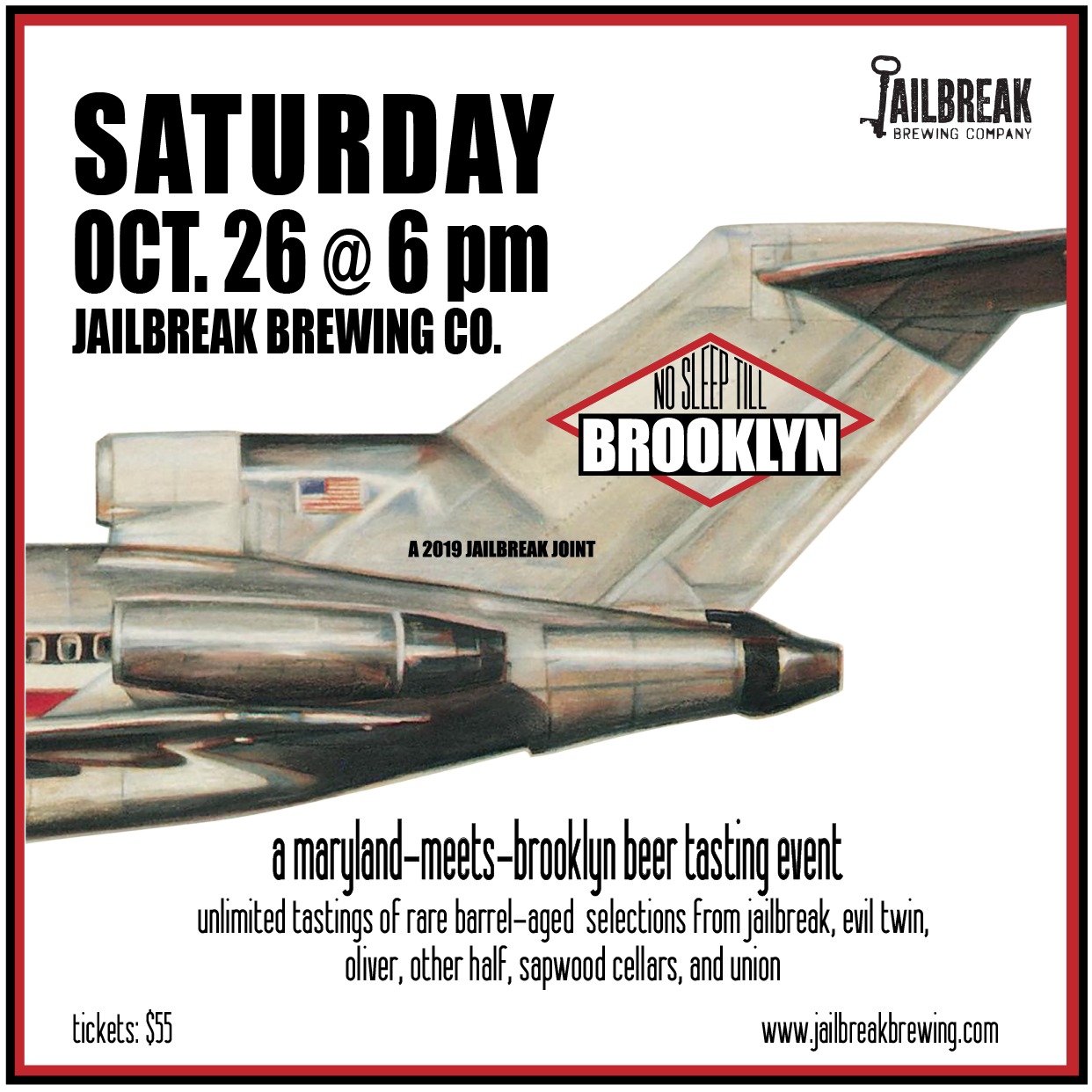 A Maryland-meets-Brooklyn beer tasting event on Saturday, October 26th, featuring rare barrel-aged beer selections from us and our friends at Evil Twin Brewing, Oliver Brewing Co., Other Half Brewing, Sapwood Cellars, and Union Craft Brewing.
From 6 to 9 p.m., we'll be opening up our production area, so guests can not only see where the magic happens, but enjoy some hard-to-find steady-sippers, too. Each brewery will have its own pouring station, offering two-to-three barrel-aged beers on tap. TASTINGS ARE UNLIMITED on a first-come basis.
One beer we're particularly excited about debuting is our collab with Evil Twin. Last Chance to Throw Out Ideas for the Collab Beer Name is an Imperial Stout aged in Syrah Barrels for 14 months. Though the official draft and can release isn't happening 'til Saturday, November 2nd, NSTB ticketholders will have the chance to taste the beer and have the option to purchase a 4-pack to take home with them at the conclusion of the event. (4-packs will be $25.50 at the event—a 15% discount from the regular pricing.).
See below for beer list!
We'll also have an all-you-can-drink lager station with our very own O.G. (Original Golden—the latest addition to our core portfolio, a classic golden lager) and Union's Skipjack on tap.
Plus a snack station with complimentary popcorn, mini corn dogs, cheese & crackers, and pretzel bites that you can easily grab-and-go without having to put down your beer. #priorities  Of course, our full menu will be available for purchase at FoodWorks.
And since it wouldn't be a party without some sick jams, we'll have DJ Tiz up on the brewfloor, spinning tunes all night long.
Taproom will remain open to the public; event will be held in the brewery. You must have a ticket to enter the brewery.
Check-in will be at the brewery entrance (near Taproom bar), starting at 6 p.m.
21+ only. IDs will be checked at the door.
Tickets are $55. Tax + tip is included.
BEER LIST:
EVIL TWIN
Grand Cru (maple bourbon BA stout + barleywine-style ale blend)
Grand Cru Cuvee (maple bourbon + Marsala wine BA stout + barleywine-style ale blend)
JAILBREAK
Barleywine with Coffee is Still Beer (barleywine aged in maple bourbon barrels for over a year w/coffee)
Coffee Dusk Till Dusk (BA Imperial Stout blended w/Ceremony Coffee)
2018 Dusk Till Dusk (2 imperial stouts + a barleywine blend)
JAILBREAK x EVIL TWIN – EXCLUSIVE CAN RELEASE!
Last Chance to Throw Out Ideas for the Collab Beer Name (base blend of "Dusk till Dusk" and "Even More Jesus," aged in Syrah barrels for 14 months)
OLIVER
2016 BA Speed Of Darkness (russian imperial stout aged in Woodford Reserve barrels)
2017 BA Tuppence (collab w/Stillwater Artisanal – porter fermented w/Brett C w/black currants in Pinot Noir barrels)
OTHER HALF
Into the New York Night (foudre + bourbon BA stout)
Smokescreens + Oil Slicks (smoked imperial stout w/vanilla, coconut, + coffee)
I Like My Sugar With Coffee + Cream (imperial stout w/vanilla, hazelnuts, milk sugar, + coffee)
SAPWOOD CELLARS
Russian Imperial Stout aged in Sagamore Rye barrels
Boom, Undisputed: Coconut-Vanilla! (bourbon BA imperial stout w/toasted coconut + vanilla beans)
UNION
Older Pro Tequila (Old Pro aged in tequila barrels for 6 months)
BA Chessie (American barleywine aged in barrels)